Add the contact block here or your own custom code
×
Indispensible Apps for Photography
Smartphones are aweome accessories for photography. They allow us to carry a really great range of useful tools and references in our pockets. There is an absolute motza of apps and sites available covering almost every conceivable aspect of photography. Here's a few of the Go Photo favourites.
1. The Artist's Viewfinder from Mark II
This app is a cracker. It gives you the ability to frame up and explore compositions without the need to unpack any gear. The app is a virtual viewfinder that can be configured to match the exact field of view of your lenses on your camera. it means that you can "see" the scene exactly as your camera will and you can make decisions about whether you have the best composition you can get. It's not the cheapest app you'll buy but it is very well made and very well supported.
Until the end of April new users can download the Mark II Artist's Viewfinder for just $14.99, 40% off the regular price! Get on it!
2. TPE - The Photographer's Ephemeris by Crookneck Consulting
Not only does this thing have to coolest name - it's an absolute must for any serious or budding landscape photographer. TPE let's you see where the sun and moon are going to rise and set at any point on the globe. The app will overlay lines showing the exact direction of light giving you the ability to know where to point your camera. This app is especially useful for making seascapes when it's very common to use satellite imagery to scope out a new rocky headland. The app will give you a good idea of the best part of the headland to head for. And it'll tell you what time to be there.
These guys also make some other cool apps - The Photographer's Transit is also worth checking out!
So you used TPE to get to the headland and you are standing where you think you want to be. Need to see the exact path the sun is going to take from the point of view of your camera? Will it be behind that big rock in front of you? Sun Seeker will give you an answer. This thing is an amazing 3D sun tracking system in your pocket. Start it up, turn on the real-time view and point your phone's camera at the scene. You'll see an overlay showing you the path of the sun and it's position at various times. I love this thing. It can tell me how long I need to sit at some waterfall until the sun falls behind the trees. It can tell me what time of day I need to be on location tomorrow morning for the best light. It is awesome.
It's made by OzPDA. The same people that brought you the OzWeather app (that should also have!). They also have an app for determining wind at an location which can be useful too if you after completely non-blurry leaves in that waterfall image.
This is a swiss army knife of reference information. It's useful for its Depth of Field and Hyperfocal calculators. It has a bunch of useful features like a timer you can use for super long exposures and a distance measure to help with focussing. There are a lot of apps out there that offer similar features and we haven't looked at them all. It's always a good idea to have something like this handy. You won't use it often, but when you need it you'll be glad you spent 3 bucks on it.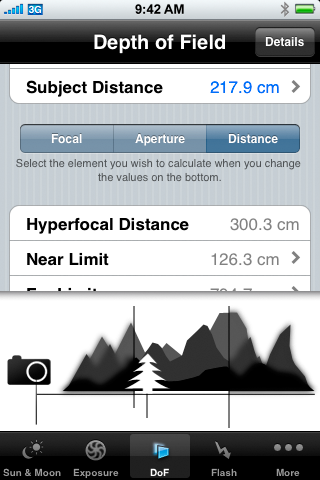 5. Reciprocity Timer by Pump Interactive
If you shoot film you'd be mad not to have this app. If you don't - it's still pretty useful. This app calculates the extended exposure you need to allow for the fact that film get less sensitive to light the longer you expose it. That's called Reciprocity Failure and it's different for every film. This thing lets you enter a metered exposure and it'll workout what you should actually do in the real-world. "But I shoot digital" I hear you say! No problem - here's what you also get with this app. A really easy to use exposure calculator that easily takes account of filters that you may add in front of your lens. A comprehensive note taking system witha voice recorder and geo-location so you can record the conditions you made the shot in. It even comes in Spanish! Ok, so I made this one and this is a shameless plug. Sorry.
Don't ever get of bed in the dark when you don't have to! Check Skippy Sky before you go to bed. This fantastic, but not so pretty, website will tell you what the cloud cover is going to be like. It can tell you whether to expect a completely overcast day or only 10% of the sky covered in clouds. I love this thing. It is so frustrating driving through the dark to a sunrise location completely unsure of whether the sun is even going to appear or if there will be any cloud at all. This website solves that. Oh, and if you are heading to the poles - it can even tell you whether to expect any Aurora action. Get on it.
Landscape photographers tend to need to do a bit of hiking. Google Maps is great but doesn't tend to work so well in the middle of nowhere. Enter MotionX. This app is a fully featured sat nav in your pocket. You can download and cache terrain-based topographic maps before you leave and then get a good clear idea of where you are and how much further you have to go. Most of the walking tracks in most national parks are marked as well so it'll help prevent you getting lost. on unfamiliar hikes. It will also give you a record of how far you went and how much elevation you gained. Great for bragging rights in the pub later on.
Most of these apps are available for both Apple and Android platforms. What apps or sites do you most use? Log-in and add them in the comments below!
---